Benson Kites was taking increasing orders for Phantoms during mid-1989 and Tim liaised with Steve Walton of Highflyers with a view to collaborating on marketing and increasing production of the kite.
Early 1990 saw Highflyers marketing Phantoms in the UK and also venturing out across the Atlantic.
Initially, Tim produced the sails at his home in Yorkshire and shipped them to Highflyers in Polzeath, Cornwall to be framed.
These initial kites had either the original 'Classic' graphics as on the Benson Kites ones or a variation called the 'Custom'. The specification was the same as the original design apart from a few minor modifications such as bungee LE tensioners and more robust LE ripstop material. Fabric was Carrington K42 nylon ripstop and framing was Beman 5.5mm 'Light'. These kites can be identified by the black labels with gold lettering which were currently being used on the Highflyers range of single-line kites. Here is an example of each type:
Classic Graphics: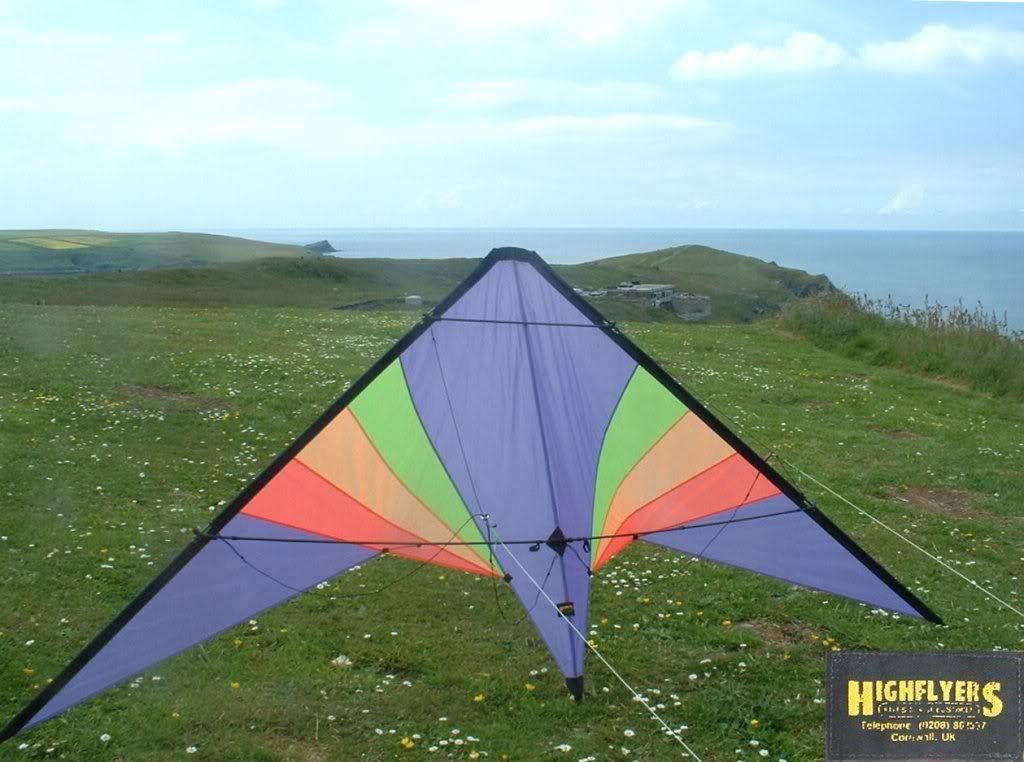 Custom Graphics:
After a few weeks, Tim went to Cornwall to set up and train for full production of Phantoms at Highflyers. The kite specification was essentially the same as previously (apart from a few lapses in QC!). An exception was that a few of the kites sold in the USA were framed in AFC 0.22inches pultruded carbon instead of the usual Beman 5.5mm as were some of the early 1990 Bantams.
Kites of the early Highflyers production phase that were fully manufactured in Polzeath are identified by blue/orange/black labels. Here are early 1990 examples of a Phantom and Bantam Phantom:
Here is another early 1990 Phantom. Yes rainbow and asymmetrical kites started way back then
: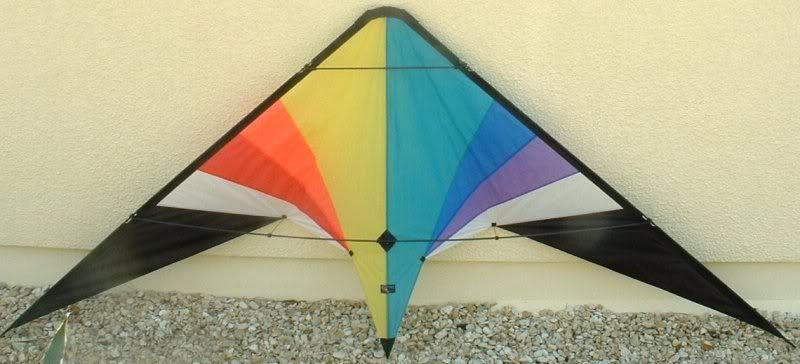 Vast quantities of Phantoms were sold in the UK and abroad during 1990 and 1991 and they were one of the kites of choice in individual, pairs and team events. This is evident when scanning through kite journals of the day such as 'Stunt kite Quarterly'. Production moved to larger premises in Wadebridge during 1990.
During this time (at Bristol 1990) The Decorators obtained a set of Highflyers Phantoms made in the same team colours as the earlier Benson Kites ones. An extra panel on each side was added by splitting the outer panels. However, these kites definitely had the Phantom size sail and should not be confused with the 'Phantom Shadow' described below. Here is a Highflyers publicity photo of the team with these kites taken at Vienna in 1991: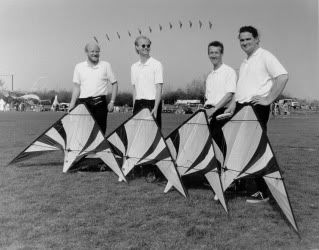 These kites were obviously flown extensively, but I managed to restore one of them: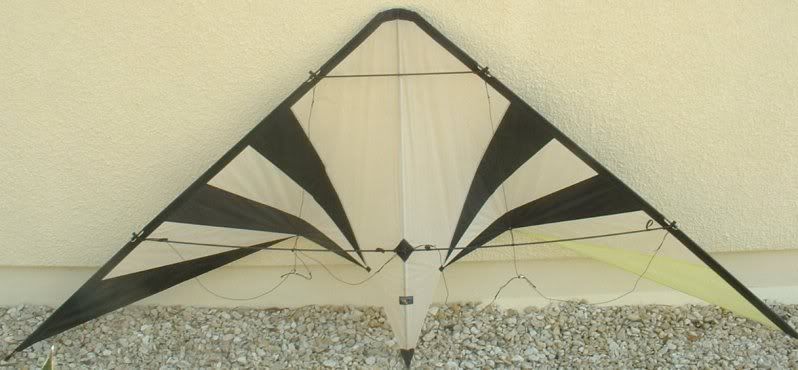 At some time around September 1990 a variant was produced called the 'Phantom Shadow'. This kite had a slightly larger sail area and had 12 panels instead of the original 10. This period coincided with the introduction of a new 'blue/white' label which was to remain in use until the end of the 1992 season. An additional 'blue/white/red' label also exists but I have only ever seen this one on kite sleeves, handles and other accessories and never on a kite. The following photograph shows examples of two such kites. The Phantom on the left is my very first Phantom (a late 1990/early1991 model) bought in August 1992 from the Highflyers store in Trebetherick. It was a display model and I was told it was the last 10-panel Phantom they were ever to sell. The other kite is a Phantom Shadow which has never been flown:
Another variation in construction (in 1990 only) was the use of a blue-coloured material for the LE tape. I've never been able to find out why it was used as it seems and looks inferior to the 'normal' black ripstop material.
Here are such examples of a 'late' 1990 Phantom Shadow and an 'early' 1990 Bantam:
The Decorators had a third and final set of Highflyers Phantoms produced in Malaysia Airlines colours for their trip to the far East. These kites were donated to the local Malaysian kite team during the visit to Malaysia for them to compete with in the world Cup held at Bristol later in 1991:
The 1990 and 1991 Highflyers sales brochures also listed some minor variants of the Phantoms. There was a 'Sport Phantom' with simpler 6-panel sail (framed with 5.9mm Beman in the UK and AFC 0.22inches in the USA) and also one rigged as a 4-line kite called the 'Pro Phantom' and once referred to as the 'Quantom'. I saw one of the latter being flown on Polzeath beach in 1992. It flew very strangely indeed and I saw why it never caught on!.
Highflyers ceased production of the original 10-panel Phantom in early 1991. For the 1992 season they added two more panels to the sail and called the kite 'Shadow Phantom 2'. I've not been able to find an example of this kite but Roy Ashton (Fungus) kindly allowed me to post a photograph of his kite which he has re-framed with more modern fittings:
After 1992 Highflyers used a heavier (non-Carrington brand) ripstop fabric, Dacron LE tape and lower quality spars for their kites and to my mind they had 'lost the plot'.
If there are any nice Highflyers Phantoms/Bantams out there, how about adding a photo to this thread. Just Highflyers for now though. Keep Fizz, Benson Kites, Phantom Elites/ULs for a later thread.
Bill.