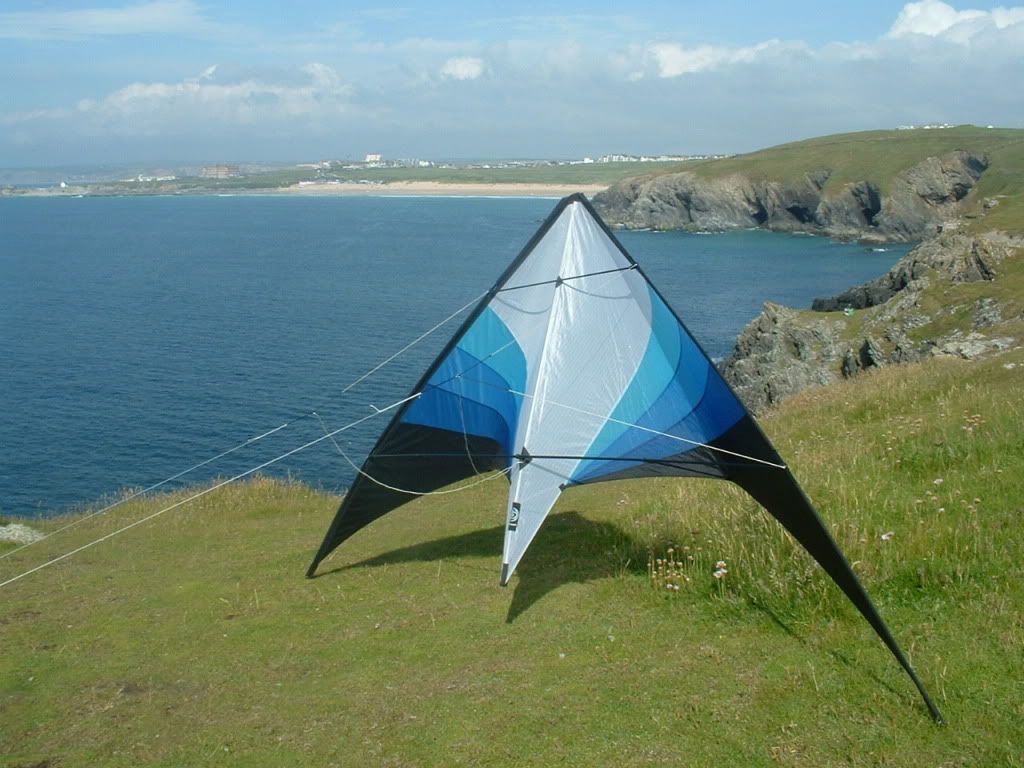 From late 1994 to Spring 1995 Tim developed a completely revised Phantom alongside 3 new trick kites: the 'Box of Tricks', 'Reflex' and 'Fusion'. The trend at that time was for more silent kites with deeper sails which made some of the new tricks, such as 'Axels' easier to achieve.
The new Phantom, known initially as the 'Phantom Elite' was radically different from the original Phantom in having curved leading-edges, curved trailing edge to sail , deeper sail and more 'outboard' stand-offs. Along with the 3 new trick kites the new range made use of 'Tradewind Kites' fittings.
I remember seeing Tim flying a late prototype/test model in 'white/green fade/black' Carrington fabric at the 1995 Weymouth Kite Festival along with the 3 new trick kites.
Official launch of the kite followed soon afterwards during May 1995. The kite was initially available in the following options:
Phantom Elite Standard – Carrington K42 nylon fabric, Epsilon UDX/Excel 6.0mm frame,
Phantom Elite UL – Icarex P31 polyester fabric, Skyshark 3P frame,
Phantom Elite Vented – Icarex P38, polyester fabric, Skyshark 5P frame,
Phantom Elite Plus – Icarex P38, polyester fabric, Skyshark 5P frame,
plus a small number of Phantom Elite SUL – Icarex P31 polyester fabric, Skyshark 'Response 12' frame, intended for indoor flying ( including a few 'S'SUL with no LE tape).
A few examples of the kite models:
Phantom Elite Standard
(with 'Carrington' nylon fabric sail)
:
A Phantom Elite UL
(actually a SUL framed in Skyshark 'Response 12')
: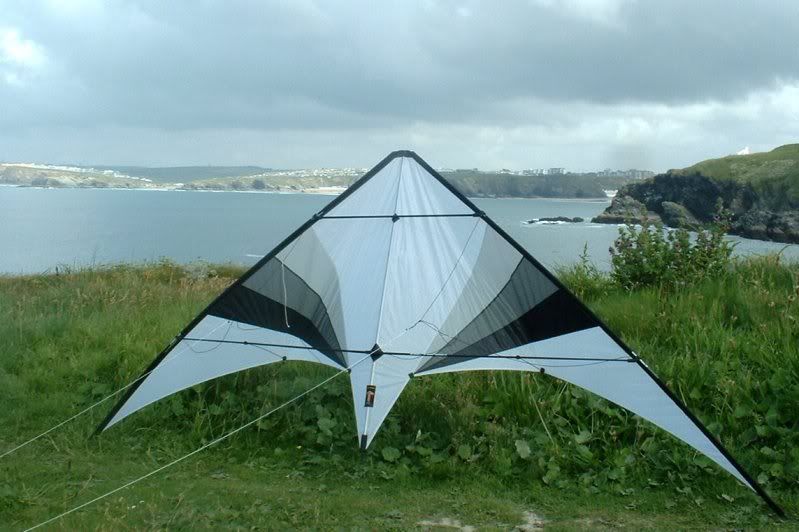 A Phantom Elite Vented:
Phantoms Elites were used quite extensively in 'Pairs' competitions. Notable examples in the UK being in 1995 'Phoenix'-Richard Marsh/Richard Liddicott, 'Free Spirit'-Gary Pullinger/Lee Lindstrom, 1996 'Phoenix'-Richard Marsh/Andrew Lomax, 'Free Spirit'-Gary Pullinger/Simon Dann, and 1997/98 'Firefly'-Alistair Hammond, Patrick Lane. Firefly were 'Pairs' champions in 1997 flying Phantoms.
Production of Phantoms under the 'Fizz' brand ceased in August 1996 and Tim manufactured and marketed the Phantom and the 3 trick kites under the with revised 'Benson Kites' branding including new labels.
At this point there were some changes in specification and some refinements. Notably, Carrington nylon was no longer used for the sails. Mylar reinforcements were added to 'wear stress' areas of the sail such as spine and 'stand-off' areas.
The Phantom range was revised with these being the initial options:
Phantom Standard – Icarex P31 fabric, Structil 6.0mm frame,
Phantom UL – Icarex P31 fabric, Skyshark 3P frame,
Phantom Vented – Icarex P31, fabric, Skyshark 5P/ frame,
Phantom Plus – Icarex P38, polyester fabric, Skyshark 5P frame,
Notable changes through to present date:Fabric:
Changed from Icarex P31 (polyester) to PC31 (polycarbonate) during 1997; Ventex polyester fabric used for a short period around late 2000/2001 due to Icarex supply difficulties;
Sewing:
Changed over from 'fell' folded seams to current 'flat' seams around 2000.
Framing:
Changed at some stage from 3P to 3PT and 5P to 7PT and finally to 'Nitro'/P-2X.
At this present time there is only one option which is listed simply as 'Phantom'. It has Skyshark 'Nitro' lower spreaders, P-2X leading edge spars and P200 spine.
Examples
The following photograph shows , left to right, 'UL-folded seam/P31/Skyshark 3PT', 'Vented-PC31/Skyshark 7PT' and 'Recent updated model (DS-type details)-PC31/Skyshark 'Nitro':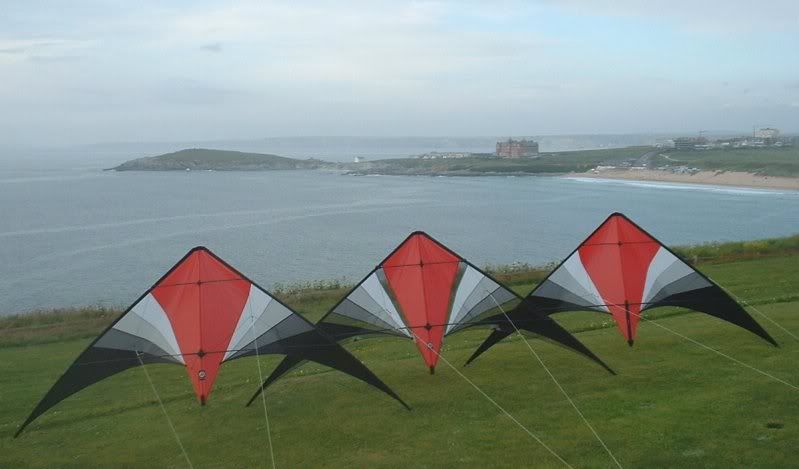 Here is a nice example of a Phantom Std (Ca. 2001) with 'Ventex' fabric:
The 'Fusion'
The Fusion was the largest of the three Benson trick kites released in 1995 and it shares much of it's origins with the Phantom.
Here is a recently made kite: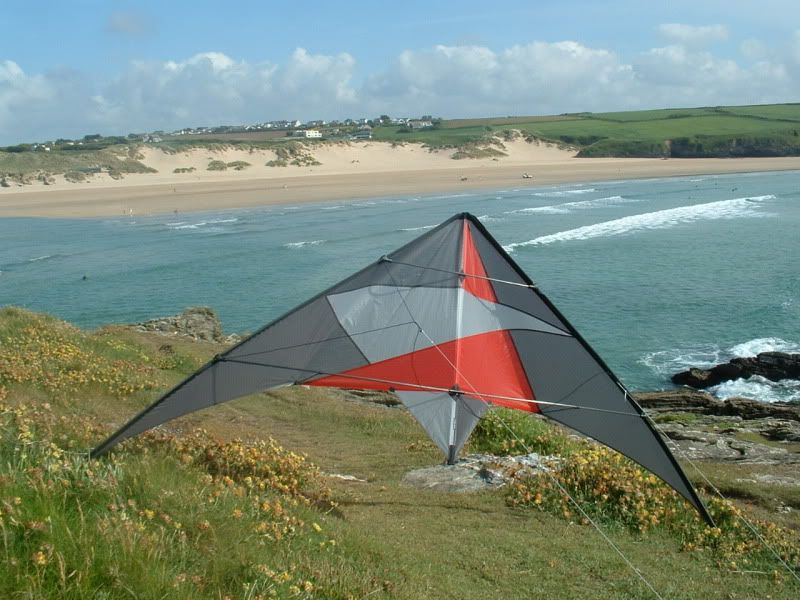 The 'Phantom Freestyle/Outer Space'
By late 1996 there was a growing trend in competitions for a so called Freestyle type of flying. Tim developed a slightly smaller variant of the Phantom to meet the needs of this flying style. Towards the end of development (1997) it became known as the 'Phantom Freestyle'. The kite was never sold as part of the kite range but just a small number were made for the Benson sponsored kite flyers of the time.
Phantom 'Freestyle' pictured with a ca. 2002 Phantom Std. for size comparison: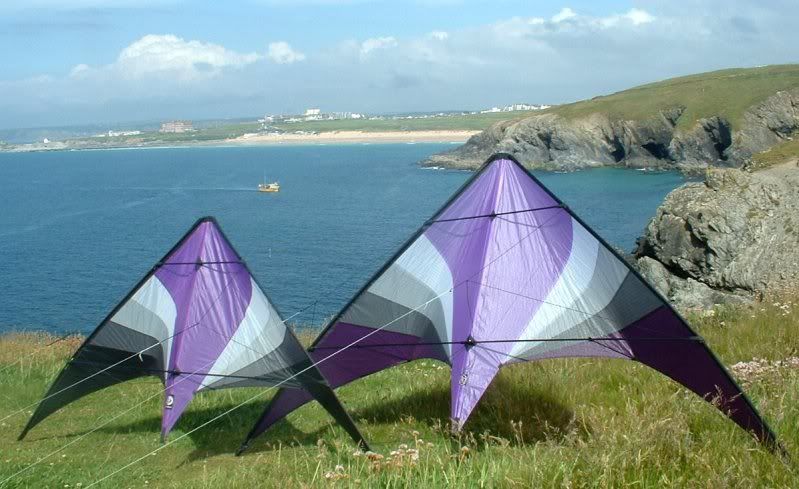 Instead of marketing this kite, Tim wanted to do something different with the graphics, so after a period of further 'tweaking' and test kites the 'Outer Space' emerged in mid-May 1998. Later that year the Outer Space was awarded the 'Kite of the Year' award from Kite Passion magazine.
This photograph shows my custom 'Outer Space' (without '
b
' in the centre panel) along with my 'very' custom kite a 'Freestyle' replica which was derived from a modified Outer Space template:
The 'Mini Phantom'
The 'Mini-Phantom' was never sold as a completed kite. Although it was derived from the Phantom UL it was not exactly a scaled down version, but it's size was approximately 60%.
Tim Benson produced this little kite in limited numbers only in kit form for a kite workshop given at Fort Warden, Washington State, in March 1998.
Recently I managed to obtain two of the original 1998 kits from the USA. One was built up recently and the second remains as a kit.
The kits contained all the 7 panels of Icarex PC31 precut to which adhesive sail tape was applied. The 4mm pultruded frame was precut and supplied with all the necessary fittings and bridles. LE tapes and Dacron reinforcements were also pre-cut and the small items supplied in plastic wallet with instruction sheet for sewing and framing: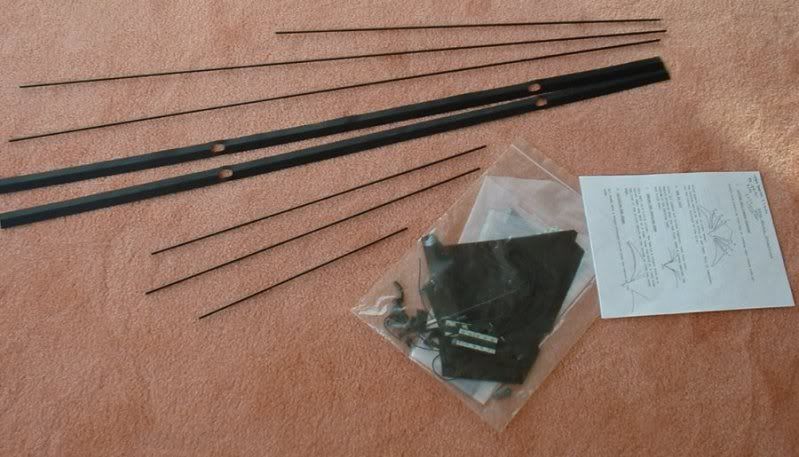 The 'Mini Phantom' is shown in the following photograph along with a current Phantom and my 'Outer Space'-derived 'Freestyle Replica' for size comparison.
Well there we are. I hope I haven't bored too many people with all this Phantom stuff. I'll save all the rest of the detail for my 'Phantom' web site which I hope to get 'live' soon. Otherwise if anyone needs any specific Phantom information please email me.
Bill.