So my final project for a while is the "Nazganic"
Rather than explain what I`m after I`ll just copy and paste my thoughts from my Organic build to give an outline of what I hope to achieve.............
"Now I`ve got a couple under my belt I`ve finalised my design for the Nazko/Organic hybrid and have decided to keep the panel design simple as (although I`m a "Visual" person in the design sense) I am interested in how a hybrid of the two will fly.
The Nazko LW .85 I built was really smooth and gracefull without being slow, still hav`nt got enough hours on it or the experience to compare it to other LW kites but....it is a joy to fly and that`s what matters.
My aim is for something a bit more "reactive" without being mental and twitchy and my ideal wind window would be 4-10mph, just below the Std range (as advertised
) but not into SUL territory.
Aiming for the same span or there abouts, slightly less sail area than the Organic but a bit more than the Nazko .85 and around 240-260g in all in weight."
Those thoughts have been backed up today while flying my recently built L`Organic and the Nazko .85 vented!
Conditions were ideal if you like a sunny afternoon with a breeze that fluctuated from 2-3mph to 14 plus mph but those are the breaks with inland flying I guess
Nothing steady or consistent but a range that would suit every kite ever built if you could swap quick enough!
It didn`t spoil my fun and after some tweeking of the bridle I found the L`organic exactly as posted by other builders, it`s a bloody pitch and Yo-yo machine! Which would have been wonderful if I had fitted the Yo-yo stoppers!
but being as I didn`t the lines were constantly sliding down the LE and I missed a lot of chances to impress myself and the crowd of Rooks and odd Buzzard looking on.
I did find it slow to react even after moving the inhaul in but I`m willing to sacrifice this part of the performance for the abilty to yo-yo just by looking at it! Pleased I built it and the stoppers ( S-fly style meaning Grommets rather than APA stand-offs) are going on tonight!
The wind, as mentioned was non-consistent, by that I don`t mean gusty but sometimes steady light and then picking up for half hour or so, and I thought I`d try my Vented Nazko .85, never expecting it to fly...
Wow! The bugger only flew great
never tested or flown before as I didn`t deem the wind high enough this experiment was just for a laugh.
I`ll re-iterate, it is framed in arrow shafts (easton powerflight but I`ll give the equivilant in weight to compare with Skyshark).
Spine (P400) L Spreaders (P300) LE (P200) U Spreader 6mm and 20g in the tail but the whole thing weights in at 270g! and I did profess my concern that my vented kite might be too light in another post.
But this thing rocks!
It spins inside out! The turning radius is tighter than the wingspan and side slides like a ghost, yet it just gives away multi-lazies and JL`s, holds a good fade and a rising turtle so not all has been sacrificed for pure pitch.
In fact I`m a bit gob smacked
So much in fact that I`m consider framing the Nazganic in non-tapered lower spreaders (P200) and saving the 5PT for another build.
I`m also moving the stand-offs closer to the Nazko spec than the Organic.
The sail is finished and it is a hybrid of the two outer dimensions but with my own panel design so I have a bit of thinking to do about framing and bridle.
[url][URL=http://s725.photobucket.com/user/peteh11/media/DSCN2318_zpsgxgxqrxu.jpg.html]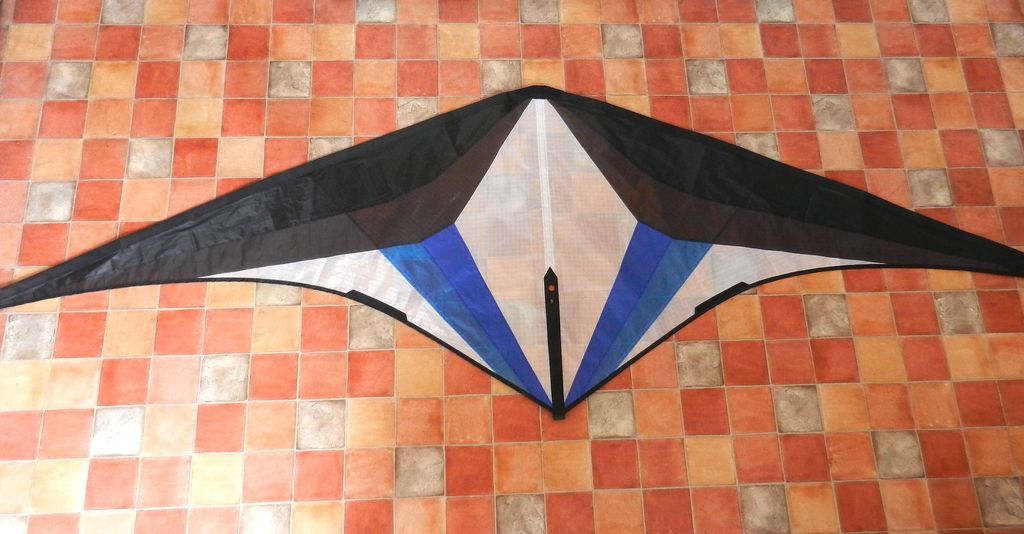 [/url][/url]