From late 1990 Tim was back in Yorkshire working on his
Benson
Kites range. The obvious change was to 'ramp up' the quality of details such as fittings.
The
Phantom
was 're-engineered' with the improved fittings and slightly enlarged and re-contoured sail to make use of the full length (82.5cm) of the standard Beman 5.5 'Light' spars used in framing, plus neater, lighter nose and tail reinforcements.
Here is an early example: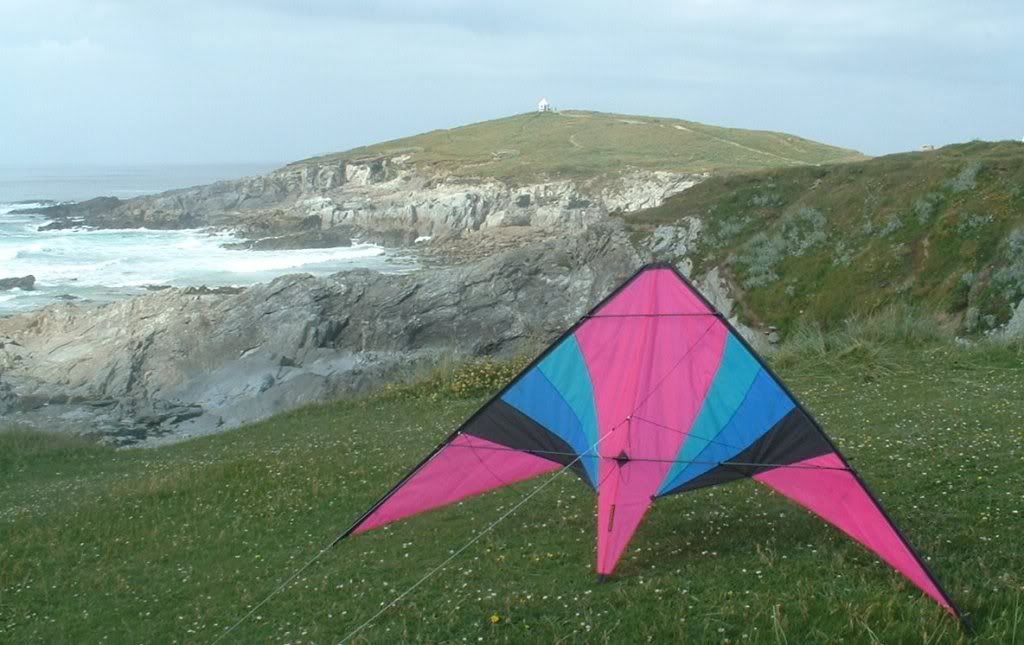 The 'Swallowtail' kite was derived from the
Phantom
. It had somewhat more 'outboard' stand-offs and was noticeably more noisy in flight.
Competition use of the
Phantom
continued. For example, the following
Phantom
and Swallowtail kites were used with success in 'Individual' competitions by Romney Johnstone of 'The Decorators'.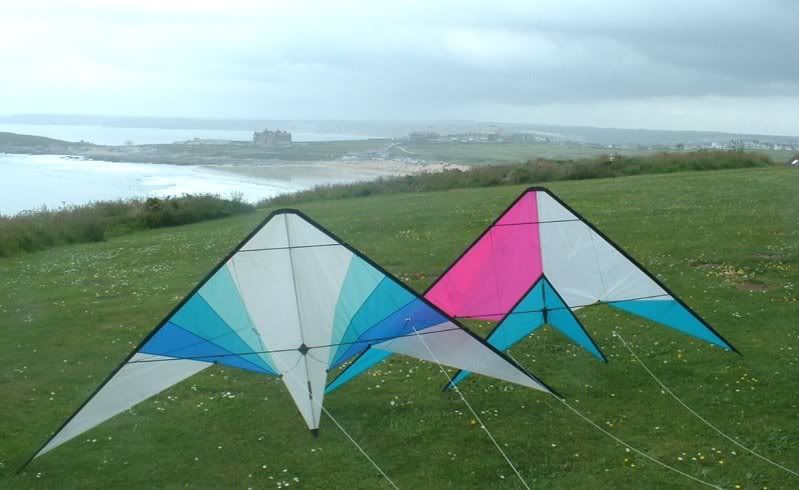 Towards the later part of 1991 the
Phantom
and related kites began to be marketed under the trade name 'Fizz Sport Kites'. The 'Bantam
Phantom
' was reintroduced towards the end of 1992. I remember seeing the prototype for the Bantam flown at the Autumn 1992 'Old Warden' kite festival. There was a stiff breeze and the kite was flying fast with amazingly crisp square corners.
Throughout this period of manufacture there were minor revisions to the sail, changes to fittings, material, kite label, even kite sleeve materials and construction. This information can be used to identify the period of manufacture of individual kites. I found it convenient to categorise the 'Original' classic design
Phantom
kites from this era into 3 'Types' which can be broadly distinguished and identified by the fittings used:
Type 1 (~1991/3)
All fabricated fittings from rubber petrol pipe, end-caps and Beman nocks.
Type 2 (~1993/4)
As above except one-piece rubber LE fittings and 'Tradewind Kites' stand-off fittings and nocks used.
Type 3 (~1994/5)
As above except 'Tradewind Kites' LE fittings and centre T-piece used.
For example, here are the differences in
Phantom
LE fittings, left to right, Types 1, 2 and 3:
Examples of Each Kite 'Type'
The following shows a Type 1
Phantom
and Bantam. These two kites actual kites were sold as a matching pair with stacking bridle lines provided: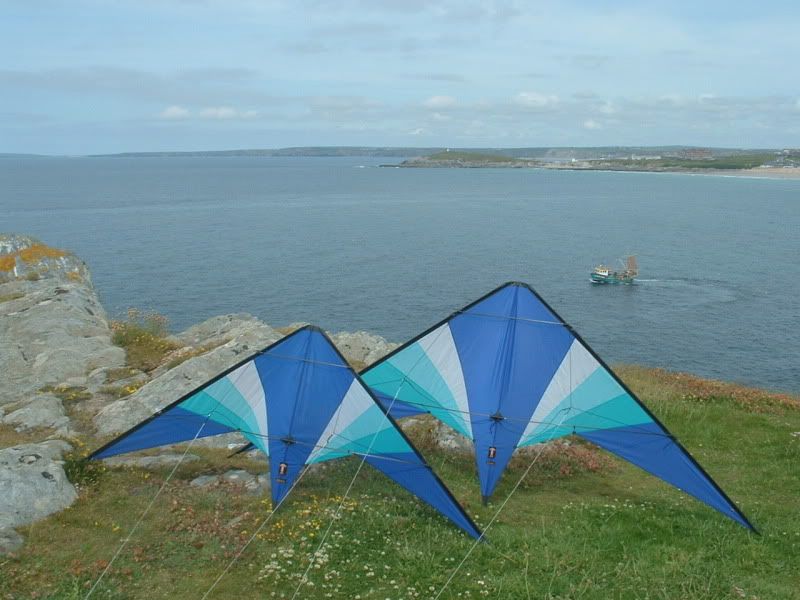 Here is a Type 1 Swallowtail in super condition (many thanks to Mark [Mark E Mark]):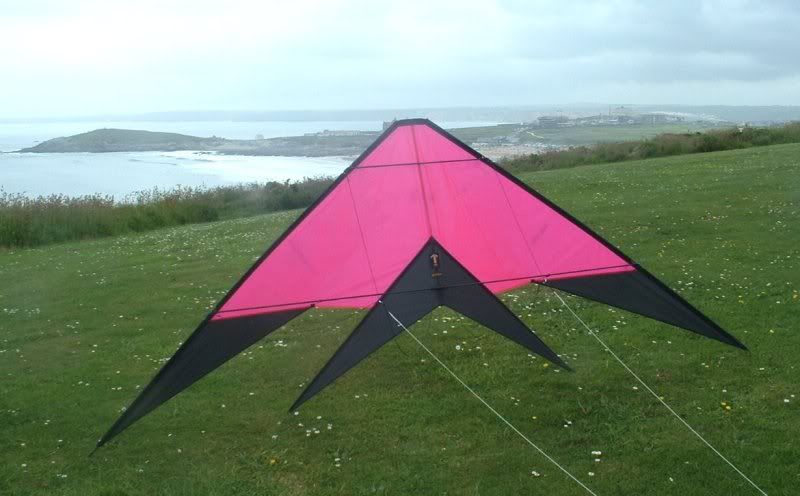 Type 2
Phantom
: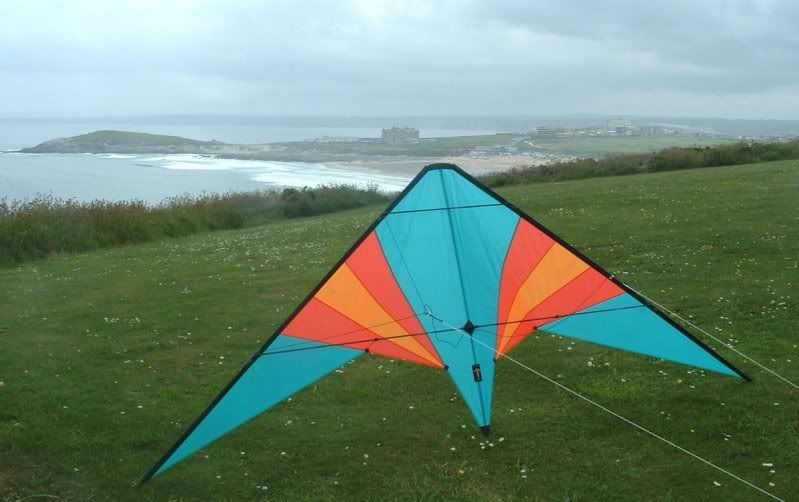 Type 3
Phantom
and Bantam:
Production of the 'Original' classic
Phantom
continued until sometime mid-1995 as the completely revised new model of the
Phantom
(described in my next FA Thread) was becoming the preferred kite to buy and more suited the style of flying at that time which was becoming more trick orientated.
There's a lot more detail but I will save this for my '
Phantom
' website which I hope to put up soon. The site will include some of the more technical stuff including dimensions and loads of much more mundane stuff like kite sleeves, labels etc.. In fact using the progression of changes it is possible to estimate the manufacture date of
Phantom
to within about 2 years. Until then, if anyone has a used
Phantom
(or Bantam) they would like dating or need some details for restoring, please email me.
The next (and final) thread in my '
Phantom
' series will be about the '
Phantom
Elite / UL' which should be more familiar to FA forum people than the earlier models.
Bill.